This article has been archived and is no longer being actively maintained for accuracy.
Case Study
Jesica Santillan was a seventeen-year-old young lady who was born in Mexico with restrictive cardiomyopathy. Her parents paid smugglers 5,000 dollars to smuggle her and her two siblings over the Mexican-US border in order to obtain healthcare for her in the United States.
On their journey, the family was robbed by thieves who stole all of their money and even Jesica's earrings. They settled in North Carolina in a caravan, where her father and mother found work. Jesica came to be under the care of Dr James Jaggers, a very well respected surgeon and humanitarian at Duke University Hospital.
Soon after the Santillans arrived in North Carolina they drew the attention of compassionate locals like Mack Mahoney who became a fierce advocate for Jesica and her family, starting an organisation called Jesica's Hope Chest to raise funds for her surgery and the family's living expenses. He was such a trusted advocate for Jesica that her family allowed him to make surrogate medical decisions on her behalf.
Jesica was placed on the transplant list in May of 2002 to await a heart-lung donation to become available. In the middle of the night, on 7 February 2003, Dr Jaggers was offered a donor heart-lung for a patient. He deemed them unsuitable, but asked the donor coordinator if the organs would be suitable for Jesica. The donor coordinator said they would check and get back to Dr Jaggers.
A few hours later, the coordinator offered the organs to Dr Jaggers for Jesica. Dr Jaggers does not recall being asked about the blood group and did not have the details of Jesica's blood group with him at home. He assumed that the donor coordinators had checked this.
Jessica was type O and the donor was type A (Resnick 2003).
At the time, the usual procurement surgeon was unavailable, so a less experienced surgeon was sent to assess and procure the organs for Jesica. They did not check the blood groups either, thinking the surgeon and the donor coordinators would have already done this.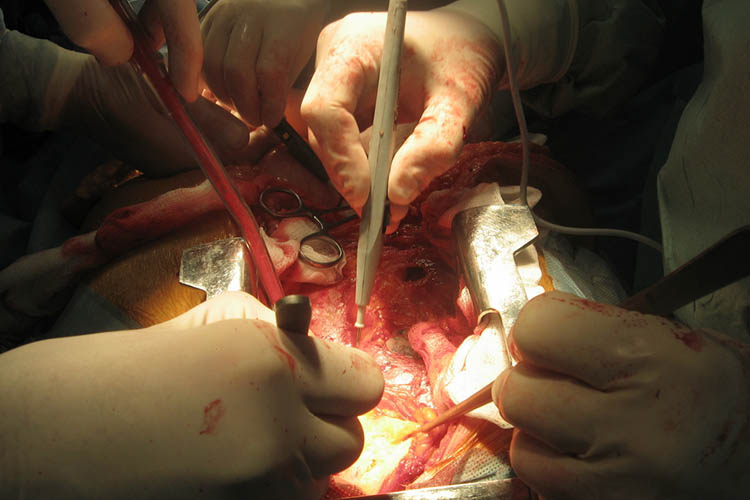 The donor surgery occurred between five and eleven PM on 7 February 2003. Around one and a half hours into the surgery, a lab technician discovered the blood anomaly and notified the surgeon. The surgical team had no option but to complete the surgery, administer anti-rejection medication and notify the family. They placed Jesica back on the transplant list and hoped to be able to support her until a new heart and lung are found of a compatible blood group.
Almost immediately, Jesica's body started to reject the organs and she required the full support of ECMO (extracorporeal membrane oxygenation) mechanical ventilation, vasoactive medication, and dialysis (Comarow 2003).
On 19 February 2003 a second heart and lung donation was obtained for Jesica of the correct blood group and the surgery proceeded.
Very soon after, Jesica's neurological state deteriorated and a CT scan was diagnostic of intracranial bleeding and raised intracranial pressure.
She proceeded to brain death, and treatment was withdrawn on 22 February 2003.
Jesica's family were devastated and angry. They accused the hospital of murdering their daughter and of dishonesty, that was only lessened by the intervention of the media and the avid advocacy from Mack Mahoney (Wailoo et al. 2006).
Assessment
Jesica's story depicts Reason's (2000) 'Swiss Cheese' model of patient error in textbook fashion.
We have a desperately ill adolescent from a disadvantaged family, in a foreign country. We have an on-call surgeon and a phone conversation in the middle of the night. He is a very well-respected surgeon and humanitarian (he volunteers in Nicaragua for two weeks every year). But, it's the middle of the night, he is offered organs, and he doesn't have his patient records with him. He assumes the donor coordinators have checked the blood group compatibility. They assume he knows the blood group. He asks them if the organs would be suitable for Jesica and they come back to him several hours later saying they would be. He sends a marginally less experienced procurement surgeon to assess the donor organs and procure them. They are constrained by time limits and delayed on the tarmac by a snow storm. The organs are coming up for an ischaemic time of six hours. Jesica's organs have been removed in preparation for the donated heart. Around one and half hours into the surgery the error is identified (Resnick 2003).
Fall Out
This monumental error was the catalyst for procedural change in the US. It showed that elite hospitals, and well-respected and careful surgeons can still make errors that result in patient deaths. In fact, medical error accounts for around 88,000 deaths a year in the US.
The way Duke handled this error was fundamentally flawed. They tried to keep the error a secret, asked the family not to speak to the media, and attempted to influence Mahoney during a press conference. Only after media attention did they own up to their error and behave ethically. They referred the case to their ethics committee just before Jesica died, rather than when the error had occurred. Her family were distrustful and did not understand the significance of brain death. They saw treatment being withdrawn from their beloved daughter when she was still warm and breathing.
The case is a tragic example of how, as clinicians, we have to all be accountable for our actions and we all have to advocate ferociously for our patients. There were countless opportunities in the hours preceding the transplant for one of the many staff involved to check the blood group.
There are so many simple actions that we can employ. Procedures such as 'time out' prior to surgery, identifying the operative limb by the patient preoperatively, and so on. But it's a lesson to us that we must take the time to observe these safety measures, so that an incident like Jesica's is not repeated.
[show_more more="Show References" less="Hide References" align="center" color="#808080″]
References
Comarow, A 2003, 'Jesica's Story: One Mistake Didn't Kill Her – The Organ Donor System Was Fatally Flawed', US News and World Report, vol. 135, no. 3, pp. 51-4, viewed 3 November 2016, https://msu.edu/course/hm/546/jesica.htm
Reason, J 2000, 'Human Error: Models and Management', British Medical Journal, BMJ, vol. 320, pp. 768-70, viewed 3 November 2016, https://www.ncbi.nlm.nih.gov/pmc/articles/PMC1117770/
Resnick, D 2003, 'The Jesica Santillan Tragedy: Lessons Learned', The Hastings Center Report, vol. 33, no. 4, pp. 15-20, viewed 3 November 2016, https://www.jstor.org/stable/3528375?seq=1#page_scan_tab_contents
Wailoo, K, Livingston, J & Guarnaccia, P 2006, A Death Retold: Jesica Santillan, the Bungled Transplant and Paradoxes of Medical Citizenship, Chapel Hill, University of North Carolina Press, NC, USA
[/show_more]