Sorry, this course has expired and is no longer available.
As the world prepares for a silver economy, more people are looking for ways to achieve creativity in healthcare. One field that is gaining traction around the globe is the connection between the arts and health.
The benefits and long-lasting outcomes of integrating the arts into healthcare are being researched and produced across not only the aged care sector but also dimensions of mental health care.
Whereas previously there may have been the opportunity to join in the odd 'sing-along' or to watch dancing in the common room, for nursing home residents today there are a number of aged care professionals taking the connection of arts and health a bit more seriously.
What is Arts in Health?
There are many different ways in which arts in health can be applied. Principally it concerns the effect that active engagement in the arts can have on health and the wellbeing of individuals and communities.
Of course there are many different branches of arts, some of which are literature, performing arts, media and visual arts.
The ways in which the arts have been involved in healthcare can be summarised into the following categories:
Arts in a healthcare environment: For a number of decades hospitals and other large healthcare settings have incorporated artwork into their healthcare environment to provide a positive environment for patients and staff. Now, some hospitals allow specifically trained volunteers to take photos of the artwork to bed-ridden patients so that they can view and discuss the works and be more involved in their environment. Some hospitals have also engaged artists to exhibit their work, design clinical areas and develop tactile and calming gardens.
Participatory arts programmes: These programmes encourage social engagement and creativity which requires involvement of participants. Patients with physical and / or mental health issues have taken the opportunity of arts programmes at community settings as an outlet or means to improve their wellbeing.
Arts Therapy: Art therapists are usually registered with a health professionals board. They have studied to a degree where they are established members of the extended health team and use the arts as a source of communication and a psychotherapeutic tool with clients.
Medical Humanities: Historically, the arts have always played an important role in the development and understanding of wellbeing. Doctors sometimes will, as part of their training, have an aspect of art in their degrees where as many health professionals use participation in arts activities to help with the pressure of work.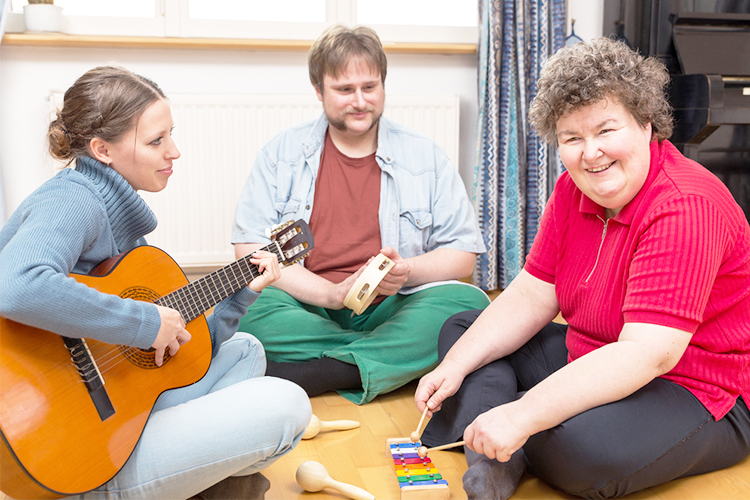 What Does the Research Say?
There are numerous research projects being conducted around the world that are starting to show the positive impact of arts in health. Some of the leading countries are; the United Kingdom, Holland and the Scandinavian countries. Australia, although still relatively young in this field of work, is also beginning to grow as a player in the field.
A project called Arts on Prescription, which was conducted in the UK, is a community-based arts project designed to promote mental health. It is a weekly workshop program that is led by professional artists who have experience working with vulnerable groups. The scheme is delivered to disadvantaged and isolated people with severe and enduring mental health problems.
People are referred to the program by health professionals. Outcomes perceived the formation of a creative and therapeutic environment as well as the experience of social, psychological and occupational benefits. The benefits of the project were attributed to its humanistic philosophy and the role of positive human relationships.
Although art in itself is quite personal, intrinsic benefits such as aesthetic pleasure can actually lead to a stimulation of social connectedness where sharing and discussion around one's experience is created. It is these effects which greatly enrich individuals' lives and create social bonds allowing individuals to express common values and community identity.
The benefits of dance for reducing loneliness and alleviating depression and anxiety among people in social care environments have been documented. Dance has the ability to promote creativity and social integration, and allow nonverbal stimulation and communication.
In Australia we have recently had the publication of the National Arts & Health Framework, a document which has been developed to enhance the profile of arts and health in Australia. Promoting a hopefully greater integration of arts and health practice into health services. In the framework, arts and health has been described as a tool for therapy, rehabilitation or treatment, a way of promoting healthy living, a means of inclusion for members of socially isolated groups and a way of communicating sensitive health issues. It is promoted as a resource for the different states and territories of Australia to use to bring the arts into healthcare, however we should be careful that this does not result in a large number of minor activities springing up throughout healthcare services which have no real intention or meaning apart from 'putting it on an activity list'.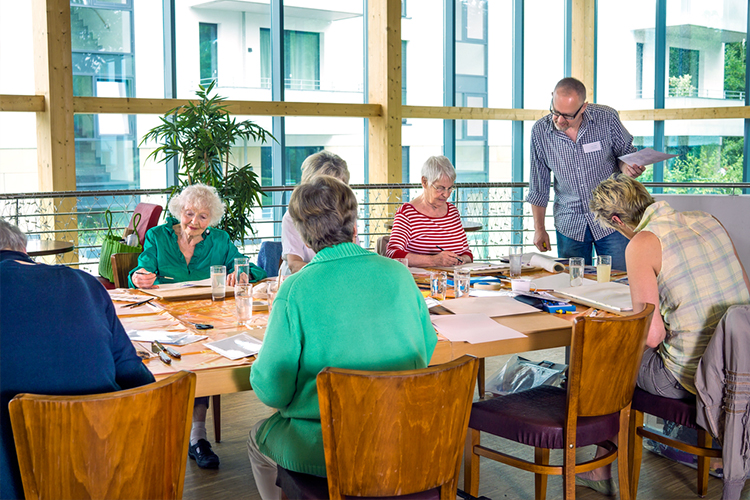 Benefits in Aged Care
For advocates of the arts in health, age has certainly never been an issue. Arts is seen as an ideal platform to engage people across generations that will help reduce loneliness and connect older adults back to the community. Being encouraged to learn a musical instrument above the age of 65 can have underlying benefits for movement (fingers) and brain cells (memory).
Taking part in group musical activities again should not only be seen as rehabilitation but also just plain fun! Digital recording can open up storytelling and the ability for our older generation to share their often extraordinary lives.
There are also benefits for people with dementia who engage in art therapy – an increase in focus and attention span, an outlet for emotions, an increase in self-esteem and a communication link for those suffering with dementia and their families or carers.
As health professionals, it would be valuable to learn about the possible benefits of arts in healthcare. With more funds being contributed to projects and research to help build sustainability and creativity in health, and especially in aged care, we may hopefully move on from the odd 'sing along' or 'elevator music' being streamed through our residential care homes, to a programme that is not only beneficial for our health but as rich and colourful as our aged clients are!
[show_more more="Show References" less="Hide References" align="center" color="#808080″]
References
Arts Council England 2017, UK, viewed 8 February 2017, http://www.artscouncil.org.uk/
Departent of Communications and the Arts 2014, National Arts and Health Framework, Austrlaian Government, viewed 8 February 2017, https://www.arts.gov.au/sites…May%202014.pdf
Stickley, T, Hui, A & Duncan, K 2011, Arts on Prescription, City Arts Nottingham, University of Nottingham, viewed 8 February 2017, http://cdn.city-arts.org.uk/wp-content/uploads/2013/03/Arts-on-Perscription-Report.pdf
[/show_more]