This article has been archived and is no longer being actively maintained for accuracy.
What will the future of nursing look like with the transition to digital healthcare or 'ehealth'?
The importance of recording accurate patient information has long been recognised as one of the basic principles of effective healthcare. If it hasn't been written down, it hasn't been done.
That's not to say that there haven't been problems with paper-based records – fragmented information from multiple practitioners, loss of data and even the cost of storage are just a few of the issues we're constantly trying to deal with.
We've been aware that a change to digital-based health records has been essential for a long time, and over the past ten years or so our clinical practice has shifted drastically in that direction.
Computer-based records, emailed results and access to referral systems from a laptop or smartphone, has made our lives easier than ever when it comes to providing high-quality healthcare.
With the continuing rollout of Australia's National Digital Health strategy, the shift to an entirely new digital-based model of healthcare is on the horizon. And it's about more than just updating records online.
There are 7 priorities identified in the strategy:
Health information that is available whenever and wherever it's needed
Health information that can be exchanged securely
High-quality data that can be used with confidence and with a commonly understood meaning for all users
Better availability and access to prescriptions and medicines information
Digitally-enabled models of care that improve accessibility, quality, safety and efficiency
A workforce that can confidently use digital health technology to provide healthcare
A thriving digital health industry providing world-class innovation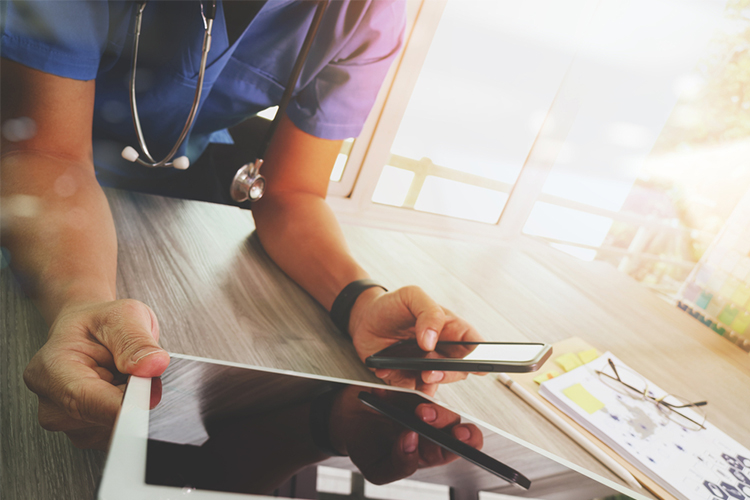 For those of us working within the health industry, it's priorities 5 and 6 that will bring the most change to our working methods and practice.
A digital health model will improve accessibility, quality, safety and efficiency for health practitioners, and our patients
Fragmented healthcare has long been a problem for healthcare providers. Around 16% of the Australian population will see more than three different health professionals for their chronic health condition, and of that number, 1 in 8 reported issues caused by a lack of communication between their health providers (Australian Bureau of Statistics, 2015-16).
Digital health solutions will change the way we communicate and collaborate with each other as health professionals involved in a patient's care – with the aim of reducing errors, repetition and reducing the need for hospital admission.
Timely access to healthcare services is essential to ensure diagnosis is made early enough for interventions to be effective.
There have been several traditional barriers in the way of accessing healthcare at the time of need, such as demand exceeding the services available or simply lack of access to a health provider in a rural or remote area.
The delivery of the ehealth 'telehealth service' across Australia (it's already being trialled in the Northern Territory) aims to improve access to health services and provide diagnosis and intervention at the point it's most effective.
Video conferencing is a great way for healthcare providers to manage cost and optimise resources, but it does require a shift in thinking – both health professionals and patients may struggle with the discussion of intimate topics through an iPad.
Those are just two examples of how a digital-based healthcare model seeks to improve care for our patients, but what about you as a health professional being able to confidently use digital health technology to deliver healthcare – what does that mean?
Traditionally, we've been rather hesitant to adopt digital methods in our working practices.
Working with an evidence-based mindset in all that we do, the move to electronic records and practice has often been seen as efficiency driven rather than in the best interests of our patients.
Indeed, the ethics of storing data about our patients online has been the subject of much debate, with privacy and security breaches along with inaccurate information and direct patient access being cited as issues (Kopala and Mitchell 2011).
Perhaps going against the grain, the Australian Digital Health Agency discovered that the majority of the Australian population do want a digital-based health system.
4 times as many people want to be able to access their personal health information on their smartphone than people that already do and over 80% agreed that digital technology will transform and improve healthcare outcomes.
It's crucial then, that we start to embrace the cultural shift to digital practice and use it to our professional advantage rather than treating it as just another 'tick-box exercise'.
To achieve this, the National Digital Health strategy proposes some changes we can expect to see in our workplaces before 2022 – if you haven't seen them introduced already. These include:
Having a digitally aware workforce – through training, appropriate hardware and software.
Digital health being embedded in all training pathways to becoming a healthcare professional, including continuing professional practice.
Digital health being integrated into national standards – developing a core set of digital competencies you must be able to meet in order for you to work safely, efficiently and effectively.
You should have easy access to best practice guidelines and resources that will support your understanding of how and when to use digital health solutions.
There should be a network of clinical digital health champions. They'll understand the benefits of digital health and encourage you to upskill and use data analytics to inform best practice.
These changes require an entirely new way of thinking – digital technology is no longer there to support our practice but to determine our delivery of care to meet the needs of our patients.
We shouldn't see technology as an aid to the care we provide but as a necessity for improved outcomes and best practice. Whilst there will be many more changes ahead, such as wearable technology for clinical measurement and increased access to health records for our patients – this isn't the end of healthcare as we've known it, but a new way of enabling improved action on clinical and public health problems that will surely benefit us all.
[show_more more="Show References" less="Hide References" align="center" color="#808080″]
References
[/show_more]