The significance of being able to provide compassionate care that eases the suffering of people in their last days cannot be overstated.
When an illness is deemed incurable, an individual has reached the point of 'end-of-life'. End-of-life care is the support available to terminally ill patients when they find themselves at the final stage of life.
This care aims to improve the quality of life of someone who has a life-limiting illness, through offering services, information, advice, referral and support (Better Health Channel 2017).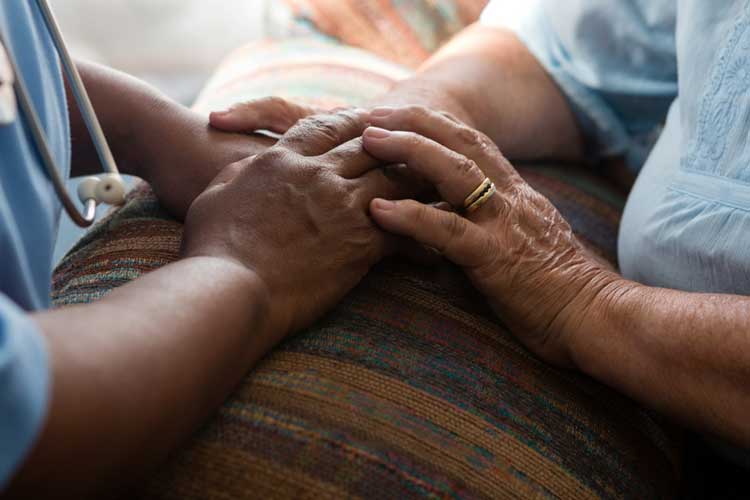 What is the Difference Between End-of-Life Care and Palliative Care?
End-of-life care is distinct from palliative care, though they are frequently grouped together.
End-of-life care may be more distinctively defined as care provided to a person with an incurable illness or whose death is imminent, during the final twelve months of their life.
Palliative care is just one aspect of end-of-life care, intended to assist and care for individuals who are suffering a considerably limiting illness – this care may be more sporadic and less easily contained in a strict time-frame.
(Australia's Health 2016)
Health professionals are uniquely placed to provide treatment of an emotional, physical, spiritual and psychological nature to patients who require end-of-life care.
Not only does end-of-life care support the individual who is nearing death, but it also caters for family and carers who are placed in the often challenging position of looking after someone in their final days.
End-of-Life Care in Australia
Australia is known for its robust healthcare system and our end-of-life care is no exception. Australians broadly benefit from safe and affordable healthcare of very high quality: it's one of the reasons as to why we have one of the longest life expectancies in the world.
(Australian Government Department of Health 2019)
There is still room for improvement however, and people who have experienced the end-of-life care system in Australia have criticised it as being hard to navigate for patients and those responsible for their care, which adds stress in an already very difficult situation.
The factors by which we can evaluate the effectiveness of end-of-life care include:
Affordability;
Palliative care provided alongside end-of-life care;
Human resources;
Community support; and
Quality of said care.
(Australia's Health 2016)
The way in which end-of-life care is provided varies from state to state, and of course access to these resources plays a large role in this. Relevant services and resources include:
Neonatal units;
Paediatric services;
Public and private acute hospitals; and
General practices, and residential and community aged care services, as well as services designed and provided to people who require support at home.
Largely, these services are geared toward older Australians and this affects the way we think of, and implement, end-of-life care services. This is the case despite knowing that about one-fifth of patients who require end-of-life care are under 65. (Australia's Health 2016)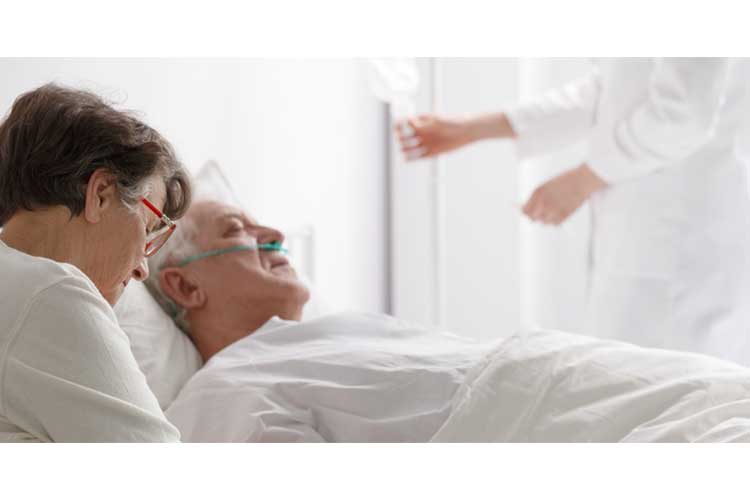 What Does Successful End-of-Life Care Look Like?
The general consensus in the last couple of years suggests that compassion and striving toward a 'good death' are crucial.
There are steps we can take to get closer to achieving this, including:
Promoting discussion about death and the limits of our current health system on a public level;
Enhancing the amount of planning around end-of-life care;
Providing choices for individuals at the end of their life;
Respecting the autonomy of these individuals;
Allowing people to reach the end-of-life in their chosen environment, which tends to favour the home as opposed to hospital settings.
(Swerissen and Duckett 2014; Australia's Health 2016)
Supporting End-of-Life Care Patients
Being informed that you do not have long to live is devastating news for anyone. Even in situations in which someone is aware of an illness progressing, this news can ignite stress and emotional responses from them and the people who love them.
Devise an advanced care directive about what medical treatments a person may or may not wish to have as part of a broader advanced care plan (if not already in place).
The patient will have a lot of questions and talking about their situation is one of the best ways to cope.
Reassure them that when faced with the news of reaching an 'end-of-life' stage, they are not alone: there are professionals, resources, and communities available to support them.
Tell them the care available to them is illness-specific – being in a supportive group of others who are going through, or have a deep understanding of what they are going through, may be enormously helpful.
They are entitled to sympathetic care, support and information around what to expect at the end-of-life stage.
It is important to instruct them to connect with family and carers and let their wishes be known and understood.
Supporting End-of-life Carers
Thoughtfullness and attention to detail are of the utmost importance in the situation of supporting someone at the end of their life.
Considerations such as financial and estate planning, talking to other family members, treatment options, and preparing for the absence of this person must be made by the carer.
When faced with the difficult situation of caring for someone at the end of their life, let carers know that help is available. There are a wide range of resources available to them to help them through this tough process and this can help to quell feelings of fear and uncertainty.
A carer may be concerned specifically about the everyday tasks that seem unmanageable in the event of looking after someone at the end of their life. There are resources available for this, including assistance for:
Showering;
Toileting;
Getting the person safely in and out of bed;
Running errands;
Preparing meals; and
Sorting out paperwork.
(Cancer Council 2017)
Accessing help at a government and community level allows a carer to think of themselves as one of the many people invested in the care of someone at the end of their life, and not needing to bear sole responsibility for this person.
A 'Good Death'
Ultimately, care, dignity, and respect are the key factors for providing successful end-of-life care – this care must extend to the friends and family of the person nearing end-of-life.
Death is an unavoidable part of life, but striving towards providing outstanding care for those approaching death (at a rate sooner than the rest of us) is a responsibility we must be brave enough to shoulder.
Additional Resources
For those interested in the future direction of end-of-life care watch the video below, in which physician BJ Miller outlines his vision for care as a professional working in the field and as someone who has had direct experience of being cared for:
References
Australian Government Department of Health 2019, The Australian Health System, viewed 19 June 2019, https://beta.health.gov.au/about-us/the-australian-health-system
Australian Institute of Health and Welfare 2016, Australia's Health 2016, Australia's Health Series no. 15. Cat. no. AUS 199. Canberra: AIHW.
Better Health Channel 2017, End of Life and Palliative Care Explained, viewed 8 June 2019, https://www.betterhealth.vic.gov.au/health/servicesandsupport/end-of-life-and-palliative-care-explained
Cancer Council 2017, Facing End of Life, February pp. 1-84 viewed 9 June 2019, https://cancercouncil.com.au/wp-content/uploads/2014/05/UC-Pub-Facing-End-of-Life-CAN4407-lo-res-March-2017.pdf?_ga=2.106782787.1980672295.1559810936-496064040.1559810936
Public Advocate 2019, Making an Advanced Care Directive, viewed 19 June 2019, https://www.publicadvocate.vic.gov.au/power-of-attorney/advance-care-directive
Swerissen H, Duckett S 2014, Dying Well, Carlton: Grattan Institute. https://grattan.edu.au/report/dying-well/
Test Your Knowledge
(Subscribers Only)
Question 1 of 3
Which of the following is <strong>not</strong> a key factor for providing successful end-of-life care?
Start an Ausmed Subscription to unlock this feature!