This article has been archived and is no longer being actively maintained for accuracy.
Christmas, New Years and even Thanksgiving, are some of the most prominent events on many of our calendars at this time of the year.
The Christmas Holiday season is a time of tremendous joy for young and old. However, many are also challenged to cope with grief and loss during this time of the year. I am one of those people.
'The holiday season looms before us like a forest of Sequoias, and we're getting closer every day'. For some, this may result in a 'collision of emotions' if we don't find a healthy way to balance our joy and grief (Roe 2017).
Nine years ago tomorrow, my father, Peter Agnes died from complications of metastatic pancreatic cancer. When he died during the 2009 holiday season, I struggled with the fear that the holiday season would never be the same.
My father was a force of nature! He was the third child of very poor immigrant Italian parents. His favourite time of the year was the holiday season and he made it his mission to make sure that every Christmas was filled with joy. I later discovered that my dad was a victim of child abuse and neglect and his youth was filled with incredible challenges.
When my father was a child he could only remember one Christmas when he received any gifts, and that was the Christmas when he was selected as a Globe Santa child.
The Boston Globe is the largest newspaper in the New England Region in the United States, and every year The Globe collected Christmas donations for the children of poor families who were not able buy gifts. When my dad was about six years old he was fortunate enough to be selected to receive a gift from the Globe Santa Fund.
I never heard him complain. He would just remind us to always be thankful and give to those who are less fortunate.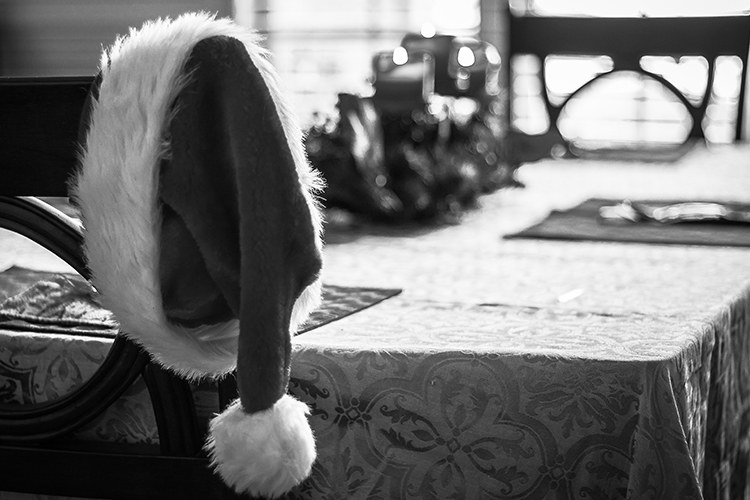 At the age of 21 years, my father and mother met and married after a year-long courtship. He would go on to father four successful children and remain the centre of my mother's world for forty-nine years. Many remember my father's contributions to the police forces for which he served. My siblings and I remember him as the most wonderful man on Earth! He was also, the first one up on Christmas morning, excited to share the joy and celebration of the season.
Roe (2017) reminds those of us that are challenged by grief during the holiday season that our losses have already occurred and our hearts have already experienced the hurt. That intense pain is in our past, although it can resurface when our calendars turn towards this holiday season. This reality was made abundantly clear to me recently when I met someone who made a tremendous impact on my nursing practice.
I was asked to lead a seminar for registered nurses who were completing a Certificate program in Parish Nursing. The topic that was the focus of my presentation on this Saturday afternoon was 'the nurse's role in health policy, politics and advocacy.' The goal of the presentation was to encourage each participant to create a draft of a health policy memo that they could utilise to make a change at a local, regional or national level of government.
During our two hour discussion, each nurse shared a topic that she felt passionate about. One of the nurses was very concerned about a school policy in her district that allowed athletic trainers to sign medical clearance forms for high-school athletes to return to the playing field after a concussion and without the approval of a physician. Another nurse was concerned about her elderly patients and the risks of their medications being diverted by care providers. I shared my family's challenges with breast cancer and I told the participants that I was preparing a health policy memo that would provide access to mammograms for women who do not have medical insurance.
By the end of the presentation, each nurse had selected a topic and prepared a brief outline that could form the basis of a health policy memo. As I was packing my computer, I was thinking about my dad and how happy he would be that I had donated my time to educate these nurses.
As I was walking out of the training, a nurse by the name of Jane approached me and asked if she could have a moment of my time. Jane told me an incredible story that helped me to find the balance between joy and grief during this holiday season.
In 2009, the same year that my dad had died, Jane was diagnosed with breast cancer. Her breast cancer was Stage 3 and she underwent a mastectomy and a rigorous course of chemotherapy. She believed she was cancer-free and continued to work until her semi-retirement in 2014.
In early 2014, Jane was diagnosed again, this time with thyroid cancer, and underwent a thyroidectomy, and once again, she returned to her part-time job as a community health nurse. Later that year, she was once again diagnosed with breast cancer but this time it had metastasised to her bone. Jane's medical team recommended another aggressive course of chemotherapy which she struggled through and completed during the 2014 holiday season.
At that point in time, she made the decision to take a trip to a place she had longed to visit all of her life, that place was Medjugorje. Medjugorje is a town located in the Herzegovina region of Bosnia and Herzegovina approximately 14-16 miles southwest of Mostar and adjacent to the perimeter of Croatia. It is a popular site for Catholic visitors who often share stories of visions of the Virgin Mary.
Jane proceeded to tell me that during her trip she purchased a collection of medals which she had blessed by a local priest from Medjugorje. She told me that earlier that morning she had a feeling that she needed to take three medals with her to the seminar and then, from her pocket she handed me each medal and asked if I would keep one and share the other two with my mother and sister.
Jane said that she has no evidence that the medals held a unique power but, her cancer has not progressed and she feels stronger now than she has in years. Jane said that she has found a sense of peace with the present and the future. She reflected that perhaps the reason why she is still here and working is to share the balance that she has found. I told Jane, that not only had she apparently found her balance but, her generous gift had reminded me of the true meaning of the balance between grief, loss, and joy. So in honour of Jane and all of us that are brought to joy and tears during this holiday season, I wish you warmth, hope, and balance today and in the coming year.
[show_more more="Show References" less="Hide References" align="center" color="#808080″]
References:
[/show_more]