Sorry, this course has expired and is no longer available.
No nurse wants to be the cause of a fatal medication error, yet every shift we give medicines that are considered high-risk.
The report prepared by the Quality Use of Medicines and Pharmacy Research Centre (Roughead, Semple & Rosenfeld 2013) has recognised the significant danger that a few groups of medications pose. The acronym APINCH is designed to serve as a reminder that even routinely administered medicines pose a high risk to patient safety.
APINCH
A – Anti-infectives
P – Potassium and other electrolytes
I – Insulin
N – Narcotics and other sedatives
C – Chemotherapeutic agents
H – Heparin and other anticoagulants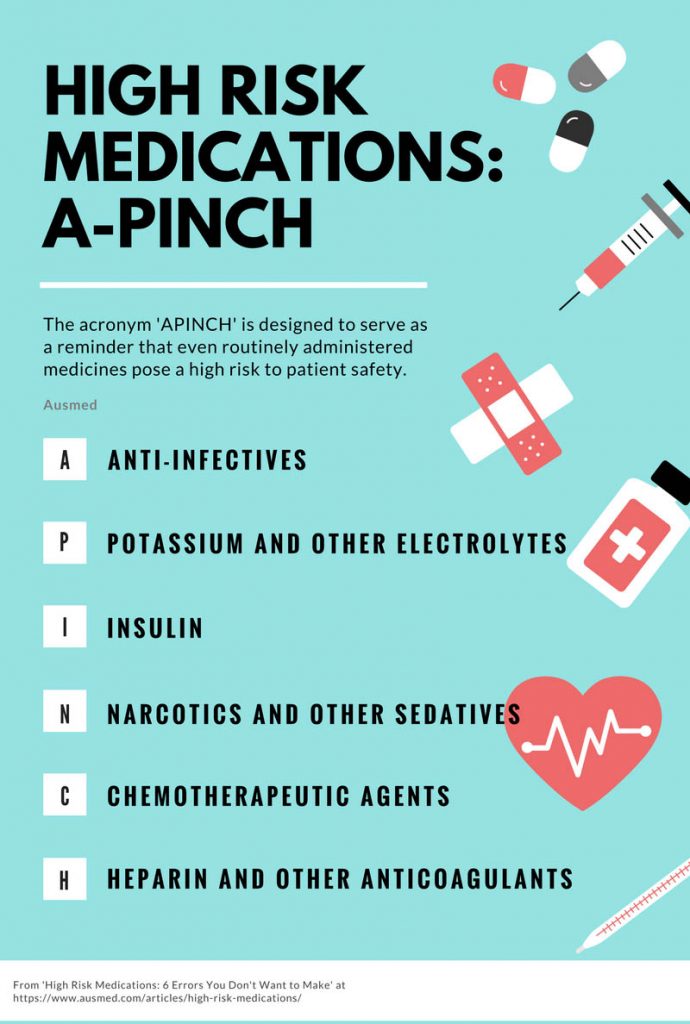 High Risk Medication Errors
High risk medications are those that have a high chance of causing harm if they are misused or used in error. They are generally medicines with a narrow therapeutic index. This means that the difference between a medicine's desired effect (efficacy) and a lethal or toxic dose (potency) is very small. In other words, a small increase in the medicine's concentration in the body could lead to toxic levels and fatal consequences (Roughead, Semple & Rosenfeld 2013).
Can you guess what some of these high risk medications are? You've probably given at least five of the six medicine classes today.
Consider the following incidents. Some are real and some are fictional but only too conceivable. All have the potential to cause serious harm. Improper administration could also result in a formal investigation of the medication error being conducted.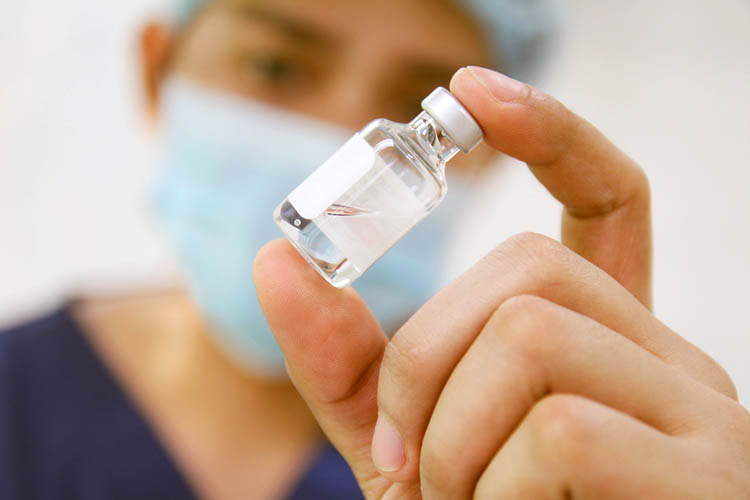 ---
Anti-infectives
There needs to be timely and appropriate monitoring of aminoglycoside antibiotics. For example, gentamicin courses that continue for longer than 72 hours; not acting on a toxic concentration result could lead to renal impairment and toxicity, and not acting on a sub-therapeutic result could lead to ineffective antibiotic treatment (Therapeutic Guidelines 2014).
Potassium and Other Electrolytes
Errors in the intravenous administration of potassium chloride are fatal and well publicised, yet continue to exist. For example, hyperkalaemia-induced cardiac arrest caused by the administration of an ampoule of potassium chloride instead of normal saline to flush a cannula, led to the death of a woman (Australian Commission for Safety and Quality in Health Care 2003).
Insulin
An order for HumalogMix25® is received, but inadvertently Humalog® is given. The result is that the patient is given a rapid-acting insulin instead of the combination rapid and intermediate-acting insulin. The patient becomes hypoglycaemic with a blood glucose level of 2.1mmol/L. Confusion between insulin agents that are similar in name, yet have significantly different results, is likely to lead to serious harm, especially if high doses are administered (Dunning et al. 2012).
Narcotics and Other Sedatives
The death of a 70-year-old woman occurred after a heat pad was applied over the site of a fentanyl patch, which was also the site of her pain. Her death was found to be due to the increased absorption of fentanyl caused by the heat pad. In addition, the likely application of a second patch without removing the first contributed to her death (New South Wales Therapeutic Advisory Group 2006).
Chemotherapeutic Agents
Methotrexate, a folic acid inhibitor, is commonly used in the treatment of autoimmune conditions in addition to its use as a chemotherapy agent. When used in the treatment of autoimmune disorders such as rheumatoid arthritis, the medicine is given once weekly. A number of deaths have been attributed to methotrexate toxicity when patients have been incorrectly prescribed or dispensed methotrexate on a daily rather than weekly basis (Institute for Safe Medication Practices Canada 2008).
Heparin and Other Anticoagulants
The failure to prescribe and administer appropriate anticoagulants has been recognised as a cause of adverse events relating to anticoagulant use. Nurses are in a position to identify patients who are at risk of venous thromboembolism and ensure that appropriate prophylaxis is used. A Canadian patient was admitted for a laparotomy for removal of an ovarian cancer and was not prescribed any anticoagulants, despite having a history of deep vein thrombosis. Two days after discharge she returned to hospital with shortness of breath. A diagnosis of a pulmonary embolism was made and anticoagulants were commenced, yet the patient still died with a massive pulmonary embolism revealed as the cause of death (ISMP Canada 2006).
Next time you are doing a medication round and have gentamicin, heparin, insulin, oxycodone and/or potassium prescribed for your patient, consider the potential danger that even APINCH can do.
---
---
In the past year has there been any situation where you felt that you lacked confidence in regard to a particular medicine or medication practice? This seminar offers the perfect opportunity to regain confidence and update your knowledge of safe medication practice. To find out more visit the website: https://www.ausmed.com.au/course/medicines-standards-safety-and-preventing-errors
[show_more more="Show References" less="Hide References" align="center" color="#808080″]
References
[/show_more]