This article has been archived and is no longer being actively maintained for accuracy.
Nurses and midwives must identify and prioritise their learning needs based on an evaluation of their practice against the relevant competency or professional practice standards and develop a learning plan based on these.
– Adapted from the NMBA guidelines
It goes without saying that writing a learning plan is an area of CPD that's not widely understood (despite it being such an essential part of CPD). Today, with the release of Ausmed's new planning tools, that's all about to change. You can now write your learning plan online quickly, easily and comprehensively. Here's what you'll have after only a few minutes of work: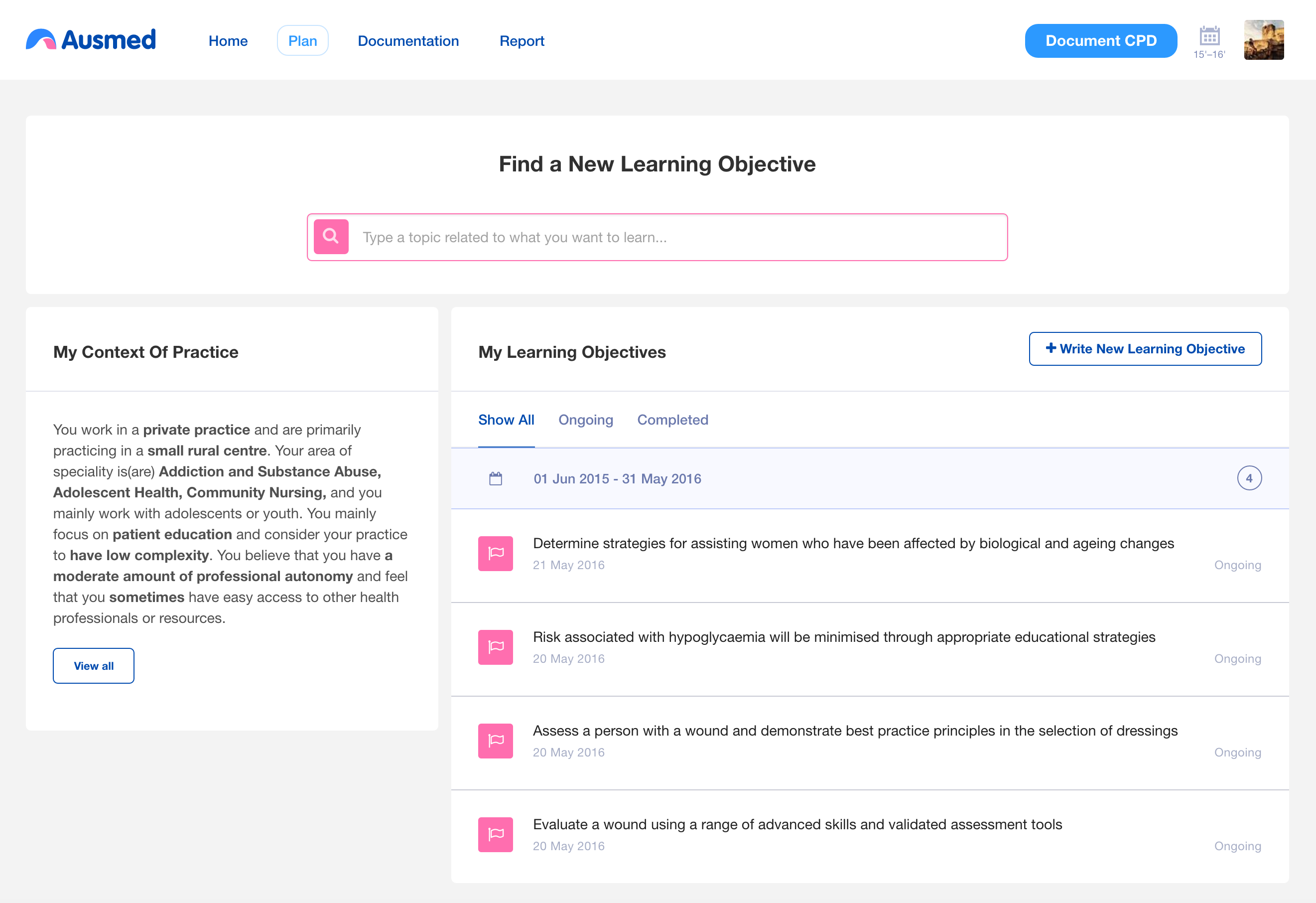 This has been created using three new and easy-to-use planning tools…
Tool 1 – Learning Goal Recommendation System
Ausmed's team of nurses have pre-written 100s of learning objectives covering the full breadth of nursing and midwifery. You can now add these pre-written objectives to your learning plan in one click. Simply type in a few keywords, and we will start suggesting the most relevant learning objectives within seconds. Here's a quick demo: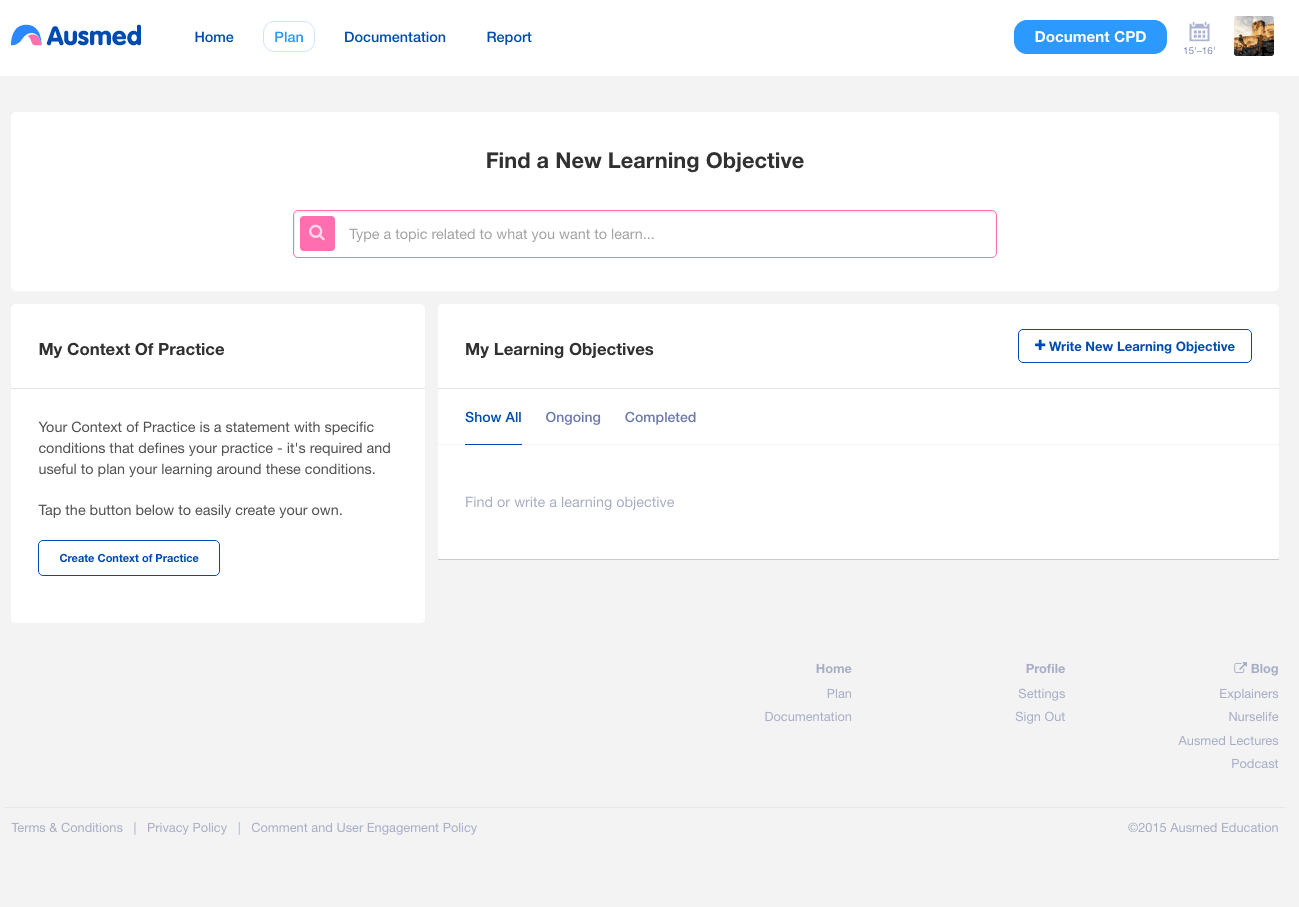 Find a learning objective that is relevant to you, click 'Add to My Objectives', and it's all yours. Of course, you can still write your own learning objectives by simply clicking 'Write New Learning Objective'.
Tool 2 – Identify Your Context of Practice
For many of us, the concept of a 'context of practice' is relatively vague with no clear framework of how to describe or define it. Consider this solved. The new planning section includes a context of practice identification tool that, upon completion, will provide you with a clear and unique statement describing your actual context of practice. Here's how it works: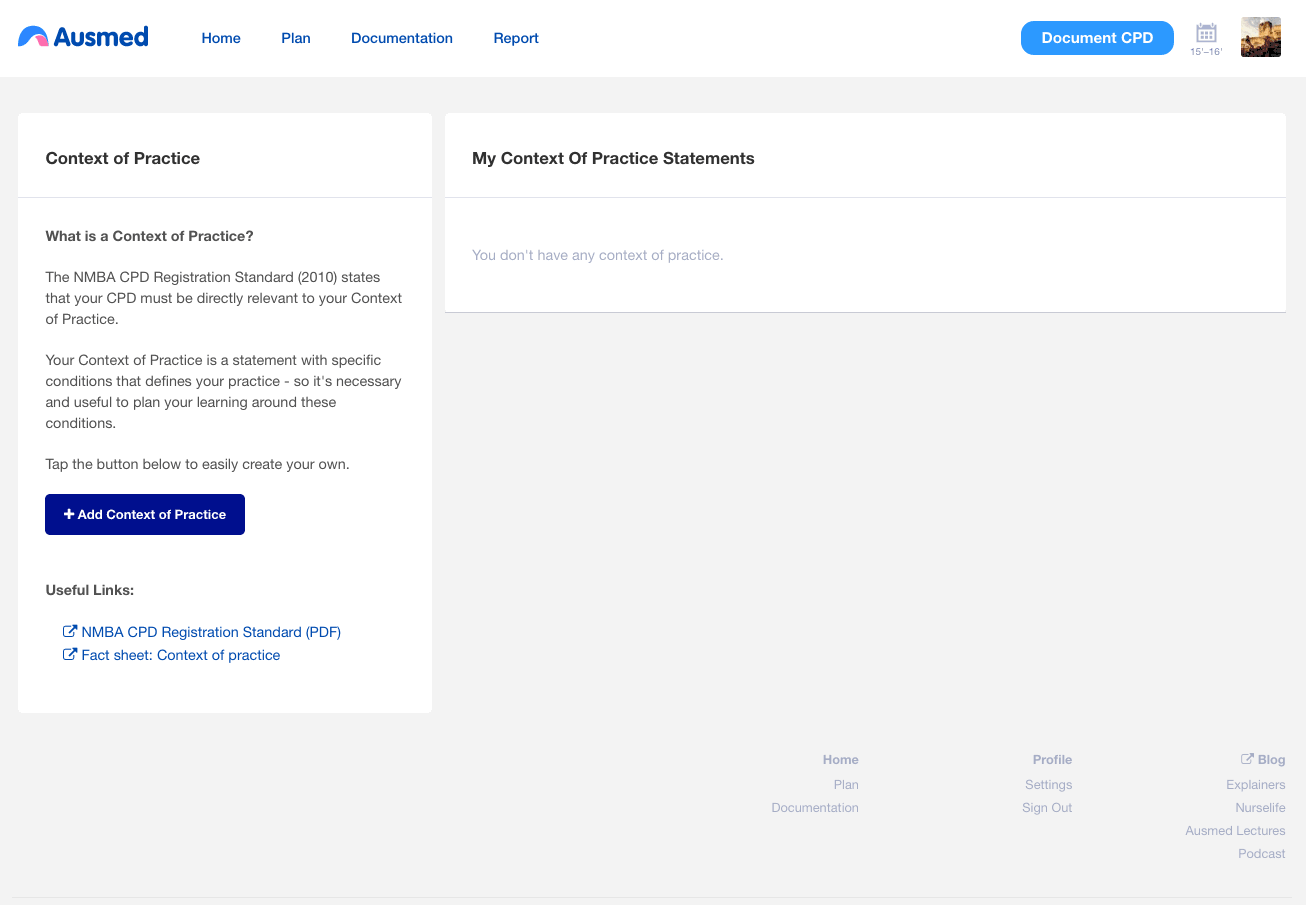 You can manage multiple context of practices simultaneously and historically, ensuring that as the focus of your nursing changes, so too does your education.
Tool 3 – Identify Related Competency Standards
The final and probably most understated feature of our new planning tools is the ability to attach a competency standard to your learning objectives. Competency standards are used across the world as a way of providing a clear statement on the minimum professional standards a nurse or midwife must uphold in the provision of care. In Australia, you must relate your learning back to these standards. Here's how you do it: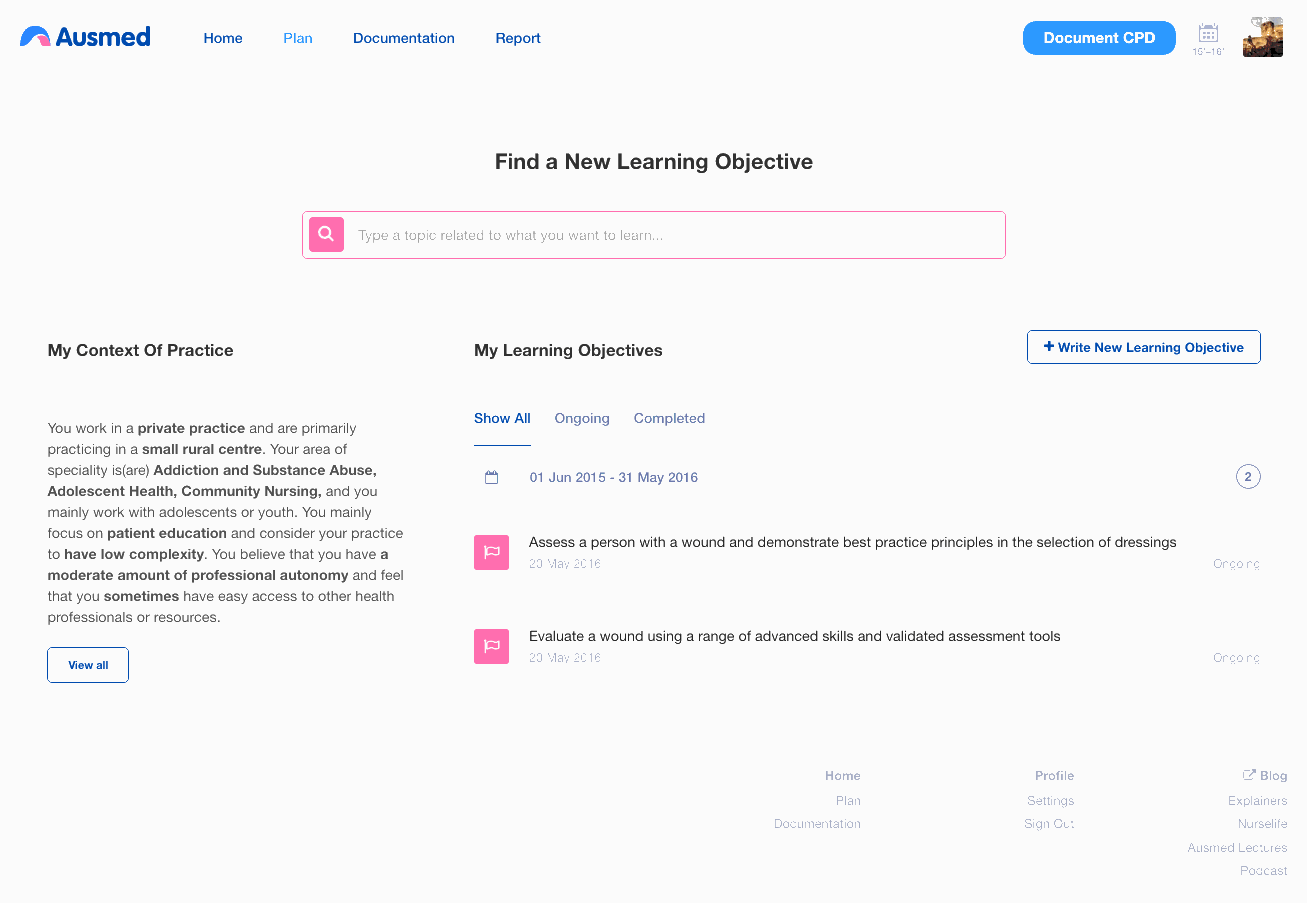 What this means for the future…
These changes are amazing in their own right, but they also say a lot about how you will manage your documentation in the future. Right now, the entire CPD documentation process is inefficient. It's managed on a one-to-one basis, meaning each individual nurse documents each individual activity, regardless of whether other nurses have already documented the exact same activity. Our goal is to make documentation (and learning more broadly) a much more collaborative experience. An experience where you leverage the power of the community (the other health professionals using our website) to get your documentation done faster.
Apply this thinking to the job of writing a learning plan, and you end up with a tool that lets you explore learning goals from the community, not merely the ability to write your own. This is just the beginning of where we will take this concept, but as you can see… it clearly makes sense.
Finally, contained within this update is an amazing algorithm that uses your context of practice, past learning patterns and the keywords you supply, to suggest the most relevant learning objectives to you. This work has been the brain child (literally) of Patrick, our lead data scientist who has also been completing his PhD at The University of Melbourne whilst working on this.
We are incredibly proud of this work, and hope you enjoy using the new planning tools. Click here to get started now.
Best regards,
Will and the Ausmed Team