'It's amazing to note how much intervention and interference in pregnancy and birth is introduced without much evidence to support it. And yet it takes a phenomenal amount of research to even begin to dismantle and discontinue practices that aren't helpful and may be harmful.
(Wickham 2019)
It's long been assumed that routine cardiotocography (CTG) monitoring of all women in labour helps reduce neonatal morbidity (Mullins, Lees and Brocklehurst 2017).
Yet, evidence is growing that monitoring itself may be a potential source of harm, due to its association with high rates of unnecessary caesarean section.
Performing baseline monitoring, typically with about 20 minutes of continuous CTG is standard practice in many units and clearly has value in helping to identify babies who may benefit from an early delivery (Alfirevic et al. 2017).
It's a long-established practice used to determine the most appropriate method of monitoring fetal wellbeing for the remainder of labour.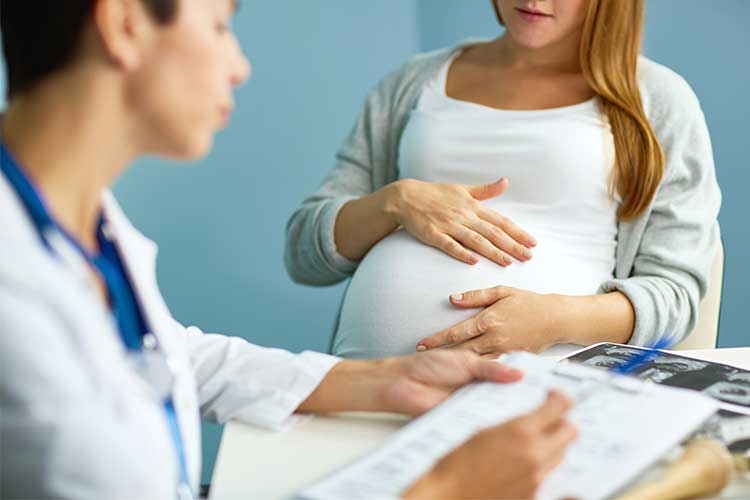 Is CTG Monitoring Supported by Evidence-Based Research?
Questions are now being raised about the use of continuous monitoring in labour. For example, in seeking an answer to the question 'Does electronic fetal heart rate, or CTG monitoring reduce perinatal mortality?' Wickham (2019) reflects on three important points:
CTG monitoring doesn't prevent perinatal death or cerebral palsy when it is used in healthy, low risk, labouring women.
CTG monitoring does increase the chance of caesarean section and other interventions.
Despite both of these things being well-grounded in robust evidence, the use of CTG monitoring remains widespread.
Devane et al. (2017) agree, suggesting that although many hospitals carry out CTG's on admission, not only is there no evidence that this benefits women with low‐risk pregnancies, it may even increase the numbers of women having a caesarean section by about 20%.
They conclude that, contrary to current guidelines, the admission CTG should not be used for women who are assessed to be low risk on admission in labour.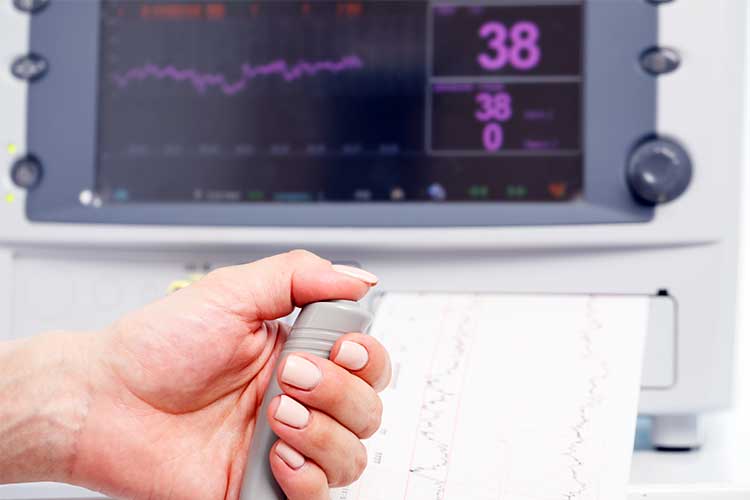 CTG in Higher Risk Women
For women with high-risk pregnancies however, continuous monitoring in labour can add valuable information to help keep mother and baby safe. The main indications for continuous CTG monitoring can helpfully be broken down as follows:
Fetal Indications
Any abnormal presentation including cord presentation.
Reduced fetal movements in the last 24 hours reported by the mother.
Deceleration heard in the fetal heart rate on intermittent auscultation.
Suspected fetal growth restriction or macrosomia.
Suspected anhydramnios or polyhydramnios.
Fetal heart rate below 110 or above 160 beats per minute.
Maternal Indications
Pulse over 120 beats per minute on 2 occasions 20 minutes apart.
Single reading of either raised diastolic blood pressure of 110mmHg or more or raised systolic blood pressure of 16mmHg or more.
Either raised diastolic blood pressure of 90mmHg or more or raised systolic blood pressure of 140mmHg or more on 2 consecutive readings taken 30 minutes apart.
A reading of 2+ of protein on urinalysis and a single reading of either raised diastolic blood pressure (90mmHg or more) or raised systolic blood pressure (140mmHg or more).
Temperature of 38oC or above on a single reading, or 37.5oC on 2 consecutive readings 1 hour apart.
Any vaginal blood loss other than a show.
Rupture of membranes more than 24 hours before the onset of established labour.
Presence of significant meconium.
Pain reported by the woman that differs from the pain normally associated with contractions.
Any risk factors recorded in the woman's notes that indicate the need for obstetric led care.
Confirmed delay in the first or second stage of labour.
Request by the woman for additional pain relief involving regional anaesthesia.
Obstetric emergency, including antepartum haemorrhage, cord prolapse, postpartum haemorrhage, maternal seizure or collapse, or a need for advanced neonatal resuscitation.
(NICE 2014)
The Argument Against Continuous CTG
But as Alfirevic et al. (2017) suggest, beyond the initial assessment of fetal well-being, continuous CTG monitoring, without adequate clinical indication can potentially do more harm than good and is associated with a worrying rise in the rate of caesarean sections and instrumental births, both of which carry risks for mothers.
Continuous CTG also makes moving and changing positions difficult in labour and women are unable to use a birthing pool.
This can impact on women's coping strategies, which in turn can raise stress levels and impact both fetal and maternal wellbeing.
Wickham (2019) also conducted a study looking at nine randomised controlled trials and 26 non-experimental studies and discovered that CTG monitoring during preterm labour was associated with a higher incidence of cerebral palsy.
Somewhat controversially they concluded that 'research evidence failed to demonstrate perinatal benefits from intrapartum CTG monitoring for women at risk for poor perinatal outcome.'
That said, they also acknowledged that no one knows why CTG monitoring in preterm labour is associated with a higher incidence of cerebral palsy.
They also make the point that further research is urgently needed, suggesting that 'until more people greet findings like these with openness and curiosity rather than defensiveness, we won't find out' (Wickham 2019).
Reviewing the Evidence
The Royal College of Obstetricians & Gynaecologists (RCOG 2015) offer the following helpful evidence summary to guide practitioners.
There is some evidence that intermittent fetal auscultation (with a hand-held Doppler or Pinard) may reduce the risk of interventions in labour.
There is some evidence that continuous CTG monitoring is associated with reducing the rate of neonatal seizures compared with intermittent auscultation.
However, there is also low-quality evidence that continuous electronic fetal monitoring with a CTG increases the risk of caesarean section and instrumental deliveries in all groups of women.
There is low-quality evidence that monitoring by continuous CTG has no effect on the rate of perinatal death, cerebral palsy rates, or the incidence of cord blood acidosis.
There is no evidence comparing the benefits or risks of no fetal monitoring with continuous CTG's.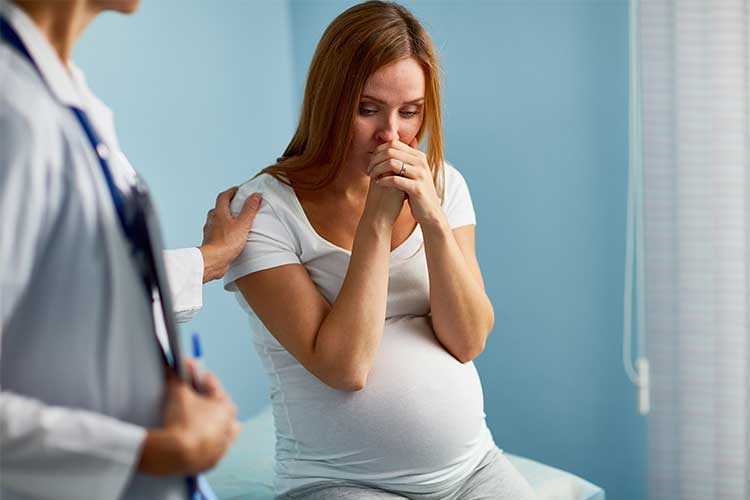 Recommendations for Practice
Interestingly, the Royal College of Obstetricians & Gynaecologists (2015) conclude that performing a CTG as part of a standard admission process is not required as it increases the risk of caesarean section, and there is not enough evidence to determine if this affects outcomes for babies.
They conclude, therefore, that there is no current justification for offering an admission CTG for women receiving midwifery led care.
In the light of this they suggest that there is some evidence to recommend:
CTG should only be used when there is a clear clinical reason.
Women without clinical indication for continuous monitoring should not be offered a CTG on arrival at a birth unit as part of a standard admission process.
Intermittent fetal heart rate auscultation throughout labour, using a Doppler or a Pinard, is likely to be more suitable for women without clinical indication for CTG.
Intelligent Structured Intermittent Auscultation
Even though the research seems to point clearly to the use of intermittent auscultation for fetal heart monitoring in low-risk women, the use of CTG monitoring continues to dominate in many maternity units.
Change often happens slowly in healthcare and whilst the weight of evidence still isn't enough to move completely away from continuous monitoring, new initiatives are emerging. For example, Intelligent Structured Intermittent Auscultation (ISIA) offers midwives an informed decision-making framework to implement evidence-based fetal heart monitoring for low-risk women (Maude, Skinner and Foureur 2014).
As Wickham (2019) reflects:
'It's amazing to note how much intervention and interference in pregnancy and birth is introduced without much evidence to support it. And yet it takes a phenomenal amount of research to even begin to dismantle and discontinue practices that aren't helpful and may be harmful. And we're nowhere near there yet with electronic fetal monitoring.'
References