83 is the number of Australians killed at work in 2019.
$61.8 billion is the cost of work-related injury and disease to the Australian economy.
$480 million is the total amount of workers' compensation paid each year for work-related mental disorders.
(Safe Work Australia 2019).
OH&S regulations vary from state to state, it is vital to be aware of the OH&S regulations of your state, which can be accessed here: https://www.business.gov.au/risk-management/health-and-safety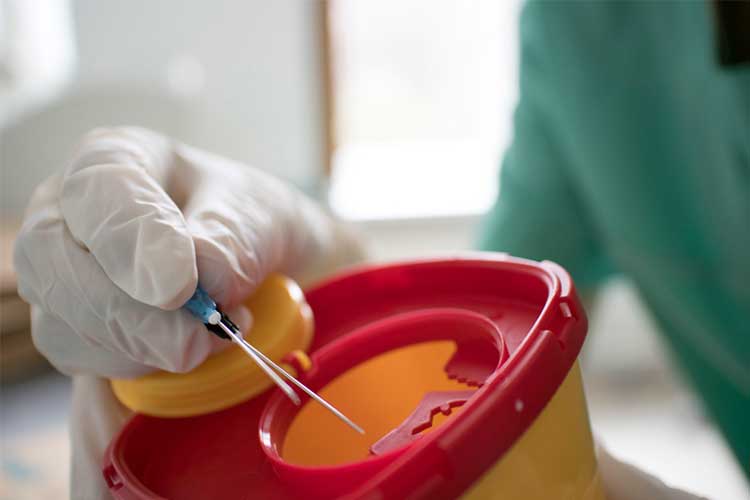 Why is Occupational Health and Safety a Healthcare Concern?
Rates of reported physical injury are particularly high in the healthcare sector in contrast to other industries.
The rate of musculoskeletal disorders in healthcare is 71.2%, compared to 54.8% elsewhere; back injuries are at 31.8% compared to 22%; and manual handling related injuries are at 58.9% compared to 43.9% elsewhere (WorkSafe Victoria 2007).
Hospitals and care facilities are places of inherent risks, including:
Exposures to infectious and chemical agents;
Lifting and repetitive tasks;
Slips, trips, and falls;
Occupational violence;
Risks associated with poor design of the workspace;
Risk associated with infection such as:
Hepatitis;
Musculoskeletal injuries;
Stress;
Serious injury such as fractures from exposure to occupational violence;
Acute traumatic injury; and
Death.
(Victorian Government 2013).
Hazards Specific to Allied Health
Awkward/uncomfortable postures and pressure associated with supporting and assisting a patient to learn to stand and walk;
Awkward/uncomfortable bending and twisting to perform hands-on mobilising treatments (exercises), making and fitting orthoses and artificial limbs, and treating patients' feet/hands;
Awkward/uncomfortable postures and high pressure working in confined spaces to assist toileting and\or showering;
Bending and twisting, pushing and pulling to use treatment equipment in small cubicles; and
Assisting patients to practise independence and outside skills in an outdoor environment.
(WorkSafe Victoria 2007)
Physical Injury
Physical injury, particularly back injuries, are prevalent among healthcare workers.
Lifting equipment, assisting patients, and constantly reaching and moving objects are some of the causes for this. Contributing factors include gender, shiftwork and the physical make-up of the nurse (IMCEEHCNP 1995). Of course, there are measures that can be implemented to decrease the incidence of work-related injury.
Manual Handling
The following is advised to decrease the risk of injury in the process of carrying out manual handling tasks:
Reduce the size and/or weight of objects if possible;
Eliminate bending or reaching by storing objects at waist height;
Eliminate clutter;
Maintain floor surfaces with good slip resistance;
Use adjustable height trolleys to move objects;
Attach lockable casters to wheels or objects;
Provide step platforms and handrails where necessary;
Place equipment on firm non-slip surfaces; and
Identify weight and size instructions before moving objects.
(de-Vitry Smith 2019)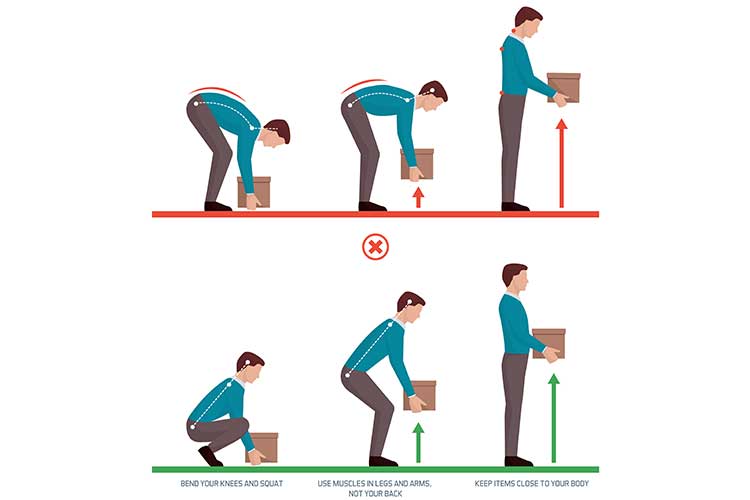 Tasks that include lifting; supporting and moving clients or heavy objects; bending; twisting and reaching (client transfer, pushing wheelchair) should be eliminated or minimised (e.g. by using assistive devices) (de-Vitry Smith 2019).
Steps you can take as an individual:
Ask for help and make use of teamwork;
Learn and adhere to proper body mechanics;
Use the right equipment; and
Use equipment correctly.
(de-Vitry Smith 2019).
How Can We Plan for a Safer Workplace?
People-handling tasks continue to be a major cause of injury to staff working in hospitals, aged care, rehabilitation and disability facilities. The manual lifting of patients should be eliminated, except for in emergency situations.
A revised system includes:
A 'no lifting' policy;
Provision of patient handling equipment, such as hoists and trolleys, which are appropriate and sufficient in number;
Provision of training to staff in the system of work, including assessing patients' needs, specific handling techniques and the use of patient handling equipment; and
Monitoring of the 'no lifting' system.
(WorkSafe Victoria 2007)
Design and equipment considerations to lessen risks for allied health staff:
Space (in the gymnasium or equipment usage area):
Space around equipment must allow for a person on each side of the patient;
A walking race (parallel bars) must have space at each side to allow two carers to supervise and assist; and
There should be space for a wheelchair turning circle at each end of walking races to eliminate the need to lift and manoeuvre wheelchairs into place.
(WorkSafe Victoria 2007)
Equipment
Provision of ample equipment to prevent the need to reposition it;
Equipment on trolleys with castor wheels, brakes and controls that are accessible to the employee without bending and twisting;
Treatment tables, benches and treatment chairs that are easily adjustable with electric controls for height and tilt, where necessary;
Adjustable patient equipment, for example, tilting tables with electric control;
Ceiling-mounted hoist with extra-long track and walking sling to assist with ambulation;
Reinforced ceilings in the gymnasium for bariatric patients requiring rehabilitation; and
Gas assist chairs with height-adjustable seats/inflatable cushion to assist patients to move from sit to stand.
(WorkSafe Victoria 2007)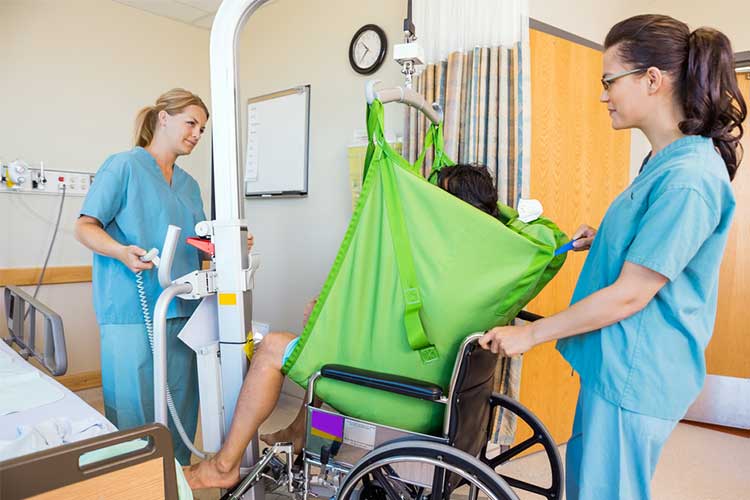 Stress
Stress is an issue present in many workplaces, but healthcare workers have to manage additional factors such as upset or volatile patients, irregular schedules and high-pressure scenarios.
In a recent government study, healthcare and welfare support workers appeared in the top five occupations with the highest rate of claims for mental health conditions (Safe Work Australia 2019).
Workplace factors that may contribute to stress include:
Dealing with life-threatening illnesses and injuries;
Demanding patients;
Overwork or irregular work;
Understaffing;
Difficult schedules, for example, rotating shifts or working multiple shifts;
Specialised equipment;
The hierarchy of authority;
Minimal control and participation in planning and decision making; and Patient deaths.
(IMCEEHCNP 1995).
These factors could be mitigated through the implementation of a combination of the following:
Frequent staff meetings;
Stress management program;
Employee assist programs;
Flexibility and worker participation in the development of work schedules;
Appropriate training and educational sessions;
Recognition and action on legitimate complaints; and
Therapy support.
(IMCEEHCNP 1995).
For your own wellbeing, monitor signs of stress and/or burnout such as affected sleep, increased dependence on alcohol, drugs and cigarettes, and behavioural changes.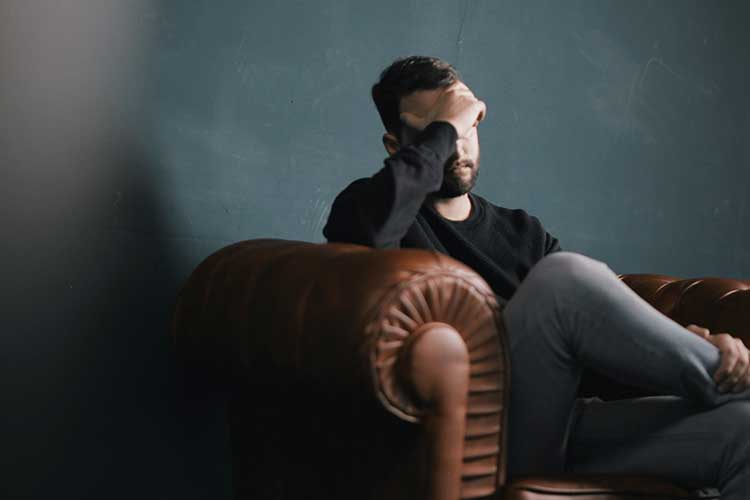 Violence
In certain healthcare settings, the risk of violence is very high.
An area that is particularly prone to this is the emergency department. There are many contributing factors to this, the most prominent are long waiting times and the prevalence of drugs and alcohol (Morphet et al. 2014).
Preventative measures should be in place to eliminate the risk of a violent act being carried out. These measures include:
Security increase;
Enforcement of a zero-tolerance policy;
Support from managers; and
Establishing follow-up reports and procedures.
(Morphet et al. 2014).
Ensure that you know who to turn to in an instance of violence (before it occurs) so that if / when it does occur, you won't have the additional stress of having to determine who is best placed to handle the issue.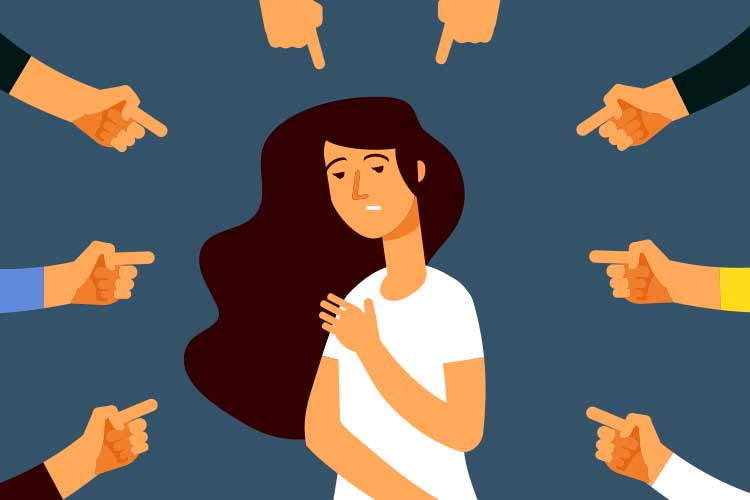 Risk Assessment
In every case, a risk assessment is required. This involves identifying potentially dangerous actions and situations. The purpose of risk assessment is to determine:
How severe a risk is;
Whether any existing control measures are effective;
What action can be taken to manage the risk; and
How urgently the action should be taken.
(Safe Work Australia 2011).
Risk Control
The following action can be taken to mitigate risk in the workplace:
Substitution – replacing a risky object/scenario with something that poses less risk.
Isolation – for example, the use of a sharps container to contain syringes.
Engineering control – for example, using mechanical lifters instead of manual lifting.
Administrative controls – following workplace pro cedures, complete relevant training and use/wear protective equipment.
(de-Vitry Smith 2019).
Conclusion
Every person has the right to return home from work without injury, and should not have to fear for their own mental and physical wellbeing, simply because of their line of work. The expectation and association of danger in healthcare settings only delays the implementation of procedures that could eliminate risk.
Remember that there are behaviours you can implement as an individual to decrease your chance of harm. Always speak up if you feel that your safety or the safety of a co-worker is being compromised by your work environment.
Additional Resources
Aged Care Quality Standards: https://www.myagedcare.gov.au/aged-care-quality-standards
Safe Work Australia: https://www.safeworkaustralia.gov.au/
References
Business.gov.au 2019, WHS/OH&S Acts, Regulations and Codes of Practice, Australian Government, viewed 19 August 2019, https://www.business.gov.au/risk-management/health-and-safety/whs-oh-and-s-acts-regulations-and-codes-of-practice
de-Vitry Smith, S 2019, 'Workplace Health and Safety', Ausmed, 28 March, viewed 16 August 2019, https://www.ausmed.com/cpd/courses/workplace-health-and-safety
Institute of Medicine (US) Committee on Enhancing Environmental Health Content in Nursing Practice 1995, Pope AM, Snyder MA, Mood LH, editors, Nursing Health, & Environment: Strengthening the Relationship to Improve the Public's Health, Washington (DC): National Academies Press (US), B, Environmental Hazards for the Nurse as a Worker.
Morphet J, Griffiths D, Plummer V, Innes K, Fairhall R, Beattie J 2014, 'At the Crossroads of Violence and Aggression in the Emergency Department: Perspectives of Australian Emergency Nurses', Australian Health Review 38, 194-201. https://www.publish.csiro.au/ah/AH13189
Safe Work Australia 2011, How To Manage Work Health and Safety Risks, Safe Work Australia, viewed 19 August 2019, https://www.safeworkaustralia.gov.au/system/files/documents/1702/how_to_manage_whs_risks.pdf
Safe Work Australia 2019, Health Care and Social Assistance, Safe Work Australia, viewed 19 August 2019, https://www.safeworkaustralia.gov.au/industry_business/health-care-and-social-assistance
Victorian Government 2013, Occupational Health and Safety Risk in Public Hospitals, Victorian Auditor-General's Report, viewed 19 August 2019, https://www.parliament.vic.gov.au/file_uploads/21031128-OHS-in-Hospitals_WvtQ97LM.pdf
Weiner, C. et al. 2015, 'Prevention of Nurses' Work-Related Musculoskeletal Disorders Resulting From Repositioning Patients in Bed: Comprehensive Narrative Review', Workplace Health & Safety, 63(5), pp. 226–232. https://journals.sagepub.com/doi/10.1177/2165079915580037
WorkSafe Victoria 2007, A Guide to Designing Workplaces for Safer Handling of People, WorkSafe Victoria, viewed 16 August 2019, https://content.api.worksafe.vic.gov.au/sites/default/files/2018-06/ISBN-Designing-workplaces-for-safer-handling-of-people-guide-2007-09.pdf


Test Your Knowledge
(Subscribers Only)
Question 1 of 3
True or false? Healthcare workers in emergency departments are most at risk of workplace violence.
Start an Ausmed Subscription to unlock this feature!